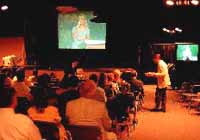 ▲본당에서 드려지는 예배를 시청할 수 있도록 폐쇄회로 TV가 설치된 방.
The overflow crowds at Southeast Christian's current facility resort to watching the services on closed-circuit TV in a room adjacent to the sanctuary.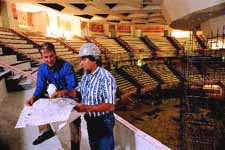 ▲9,100석과 6개의 대형 비디오 스크린이 설치될 본당 공사 장면.
Associate pastor Dave Stone reviews architectural plans in the yet-to-be-completed new sanctuary, which will seat 9,000 people and feature six immense video screens.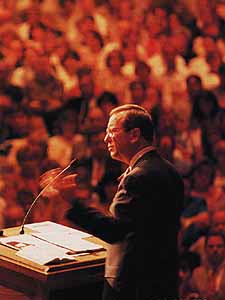 ▲북미, 남미, 유럽으로 전파되는 밥 러셀 목사의 방송설교 장면
Radio broadcasts of the Rev. Bob Russell's sermons reach all across America, and as far away as South America and Europe
With 12,000 members (and counting), a radio ministry that spans three continents, and a publishing operation that reaches tens of thousands of people, Southeast Christian Church is spreading its message far and wide. And it's just getting started.
<북미, 남미, 유럽으로 전파되는 밥 러셀 목사의 방송설교>
Just how big is Louisville's Southeast Christian Church? Huge, gigantic, mammoth, gargantuan ... take your pick.
It has, for example, 25 ordained ministers on staff.
<전임 목사 25명>
Its members drop about $250,000 onto the collection plate every week. Including building-fund donations, they have given $63 million over the past four years.<매주일 헌금 2억8천7백50만원>
The weekly sermon of its pastor, the Rev. Bob Russell, is broadcast on 37 radio stations, including Louisville's 50,000-watt WHAS-AM, and reaches as far as South America and Europe. A non-profit arm of the church run by Russell's wife, Judy, sells 6,000 tapes of his sermons every month.
<밥 러셀 목사의 주일 설교는 37개 라디오 방송을 통해서 전파되고 있고, 매달 6,000개의 설교테이프가 팔리고 있다.>
Its weekly newspaper has a circulation of 15,000 and a readership of 36,000.
<주간신문은 15,000부수의 발행과 36,000의 독자층을 형성하고 있다.>
Southeast Christian's members include Lt. Gov. Steve Henry, Papa John's founder John Schnatter, Tricon president David Novak, ResCare CEO Ron Geary, Greater Louisville Inc. president Doug Cobb, state Sen. Julie Carman Rose and Louisville Alderman Barbara Gregg.
In November 1997, former vice president Dan Quayle made two appearances at the church to stump for local Republican candidates.
<유세를 목적으로 댄 퀘일 전 부통령이 1997년 11월에만 두 차례 교회를 방문하였다.>
The sanctuary of its new $78 million church complex, scheduled to open in December, will seat 9,000 people, 3,000 more than a full-capacity Louisville Gardens. The new complex has 50 acres of parking (about 4,800 spaces), 402 toilets and more floor space than National City Tower in downtown Louisville.
<건축비용 900억원, 본당 좌석 9,000석, 주차공간 4,800대, 화장실 402개소(*NACC는 9,100석 4,700대 주차공간으로 소개하고 있음)
With 12,000 members and an average weekly attendance of 10,500, Southeast Christian ranks as the 10th-largest of America's 400,000 churches, according to the Megachurch Research Center in Bolivar, Mo.
<98년 10월 기준으로(*9,100석의 새 본당은 그 해 12월에 입당 예정됨) 12,000명 성도에 평균출석 10,500명이며, 미주리주 보리발에 위치한 대형교회조사기관에 따르면, 사우스이스트 그리스도의 교회는 미국 40만 교회 가운데 10번째 크기에 올랐다.(*NACC에 따르면, 99년 부활절의 경우 20,000명이 넘게 출석하였다고 한다.)>
And it is growing faster than ever, having added more than 1,400 members in each of the past three years.
<새 본당 건축 이전인 지난 3년간 매년 1,400명이상이 증가하였다.(*새 본당 건축이후 새 신자 등록을 상상해보라)>
"When they get in the new building it's just going to explode -- absolutely explode," says Dr. John Vaughn, director of the Megachurch Research Center, which has been following the church's growth for about 10 years. "This congregation is well within a position where it could be the largest in America within five years at the latest."
<대형교회조사기관의 죤 본 박사는 말하기를, 새 건물에 입당하면서부터는 폭발적으로 교인이 증가할 것이며, 5년 이내에 미국에서 가장 큰 교회가 될 것이라고 전망하였다.>
So, how big is Southeast Christian Church? Maybe the questions should be, how big can it get, and what role will it play in Louisville's future? <이하 생략. 아래를 클릭하시면 전체 내용을 보실 수 있습니다.>
By Henry Hoenig
Photos by John Nation

October 1998 cover page | Table of Contents
Copyright 1998 Louisville Magazine Web Edition
Webmaster: Robin Garr